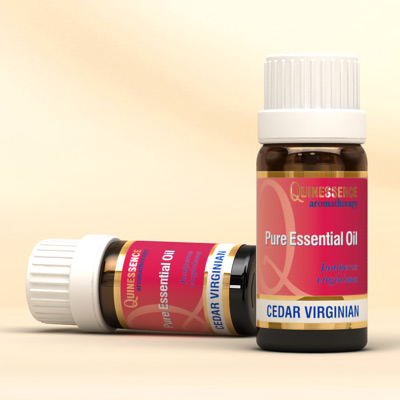 Cedar Virginian Essential Oil
Antiseptic, astringent, and strengthening . When used in massage, Cedar Virginian essential oil helps to ease everyday muscular aches and pains, especially when blended together with Roman or German Chamomile, Sweet Marjoram, or Black Pepper essential oils. It also has a strengthening action on both body and mind, which makes it useful for stress, dealing with negative emotions, and increasing determination.
The astringent and antiseptic properties of Cedar Virginian are ideal for use in a cream or lotion base for teenage spots, and oily skin conditions. It can also be used in a shampoo base to improve the condition of the scalp and hair when suffering from dandruff, or a very dry scalp that is shedding white flakes.
Virginian Cedarwood essential oil is derived from the red cedarwood tree which is native to North America, and has a fresh and sweet woody aroma with a warm balsamic note. Although not related to Cedarwood Atlas, this essential oil has many similar therapeutic properties.
Buy with confidence – 30 Day Money-back Guarantee
Not tested on animals – learn more
It is also an effective insect repellent, creating an effective synergy when it is blended together with citronella, lemon eucalyptus, lemongrass, or catnip oils.
Botanical Name:

Juniperus virginiana

Country of Origin:

USA

Extracted From:

Wood shavings

Extraction Method:

Steam distillation

Principal Constituents:

a-Cedrene, Cedrol, Thujopsene, b-Cadrene