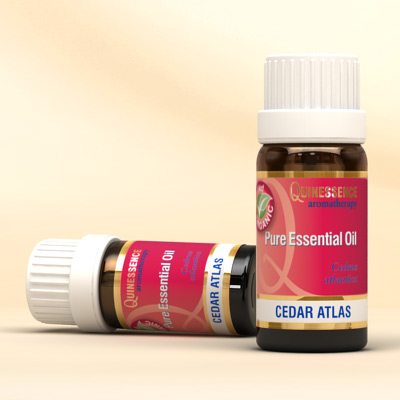 Cedar Atlas Essential Oil - Certified Organic
Antiseptic, astringent and relaxing. Like many other oils, Organic Cedar Atlas Essential Oil has a calming effect on the mind while at the same time it brings a stimulating and strengthening action to the body. In body massage, this oil soothes everyday muscular aches and pains and eases stiff joints. It has a quite distinctive, sweet, woody and balsamic odour that adds a unique base note to blends.
When used as part of a regular haircare regime, Organic Cedar Atlas Essential Oil helps to control dandruff and keeps the hair in great condition, and in recent research it was found to treat hair loss. A blend of rosemary and cedar atlas oils added to a fragrance-free shampoo and conditioner base will give tired, lifeless hair a welcome boost.
Organic Cedar Atlas Essential Oil Uses
Organic Cedar Atlas Essential Oil has a strong antiseptic and astringent action that can be used to great effect in skincare treatments for a wide range of common skin problems such as spots. Whilst it does not offer the same potency as tea tree, it does present a more acceptable aroma for many people! It is an excellent inhalant oil for keeping airways clear.
Buy with confidence – 30 Day Money-back Guarantee
Not tested on animals – learn more
Researchers at the Department of Dermatology, Aberdeen in the United Kingdom conducted a 7 month study in 1998 showing certain essential oils could treat Alopecia areata successfully. Essential oils stimulate hair regrowth due to their ability to stimulate the tiny blood vessels of the scalp where the hair follicles are created. This stimulation helps to increase the blood flow which carries the nutrients so vital to the follicles.
Eighty-six patients diagnosed as having alopecia areata, and the essential oils that they used in the research were as follows;
Cedarwood Atlas (Cedrus atlantica)
Lavender (Lavandula angustifolia)
Rosemary (Rosmarinus officinalis)
Thyme white (Thymus vulgaris)
Nineteen (44%) of 43 patients in the active group showed improvement compared with 6 (15%) of 41 patients in the control group (P = .008). An alopecia scale was applied by blinded observers on sequential photographs and was shown to be reproducible with good interobserver agreement (kappa = 0.84). The degree of improvement on photographic assessment was significant (P = .05). Demographic analysis showed that the 2 groups were well matched for prognostic factors.
The conclusion to this research was that treatment with these essential oils was significantly more effective than treatment with just the carrier oil alone (P = .008 for the primary outcome measure). They also claimed they had successfully applied an evidence-based method to an alternative therapy.
Botanical Name:

Cedrus atlantica

Country of Origin:

Morocco

Extracted From:

Wood shavings

Extraction Method:

Steam distillation

Principal Constituents:

a & b & g Himachalenes, trans-a-Atlantone, cis-a-Atlantone