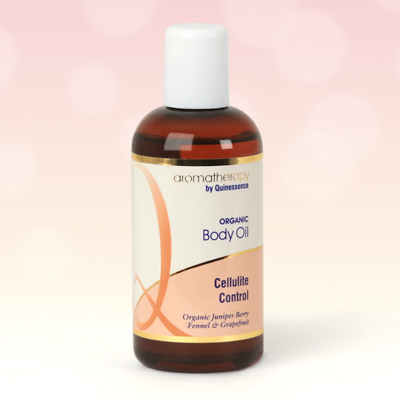 Cellulite Control Body Oil
Juniper Berry, Sweet Fennel, Grapefruit and Cypress. To help you fight back against orange-peel skin, we have brought together the most effective organic essential oils known for fighting cellulite and blended in one power-packed massage oil. Once absorbed into your bloodstream, the powerful combination of lymphatic stimulants helps with the elimination of toxins by unblocking lymphatic congestion, and when done correctly, massage helps break up the fatty deposits too.
Juniper berry essential oil is well known to have a powerful diuretic action that works in synergy with sweet fennel, grapefruit and cypress essential oils, and once absorbed into your bloodstream these oils really get to work boosting your circulatory system and stimulating the lymph flow.
The best body oil for cellulite
We've also included unrefined Avocado Oil in this silky-smooth body massage oil to help the essential oils penetrate even deeper into the epidermis. Avocado unrefined is a rich, highly moisturizing oil that contains a wide range of fatty acids that feed the skin and help delay the signs of ageing.

Remember that the elimination of toxins is absolutely vital in the treatment of cellulite, so remember to drink plenty of water to help with this process.
Buy with confidence – 30 Day Money-back Guarantee
Not tested on animals – learn more
Contains Certified Organic Essential oils of: Juniper Berry, Fennel Sweet, Grapefruit and Cypress in blended Sunflower, Coconut and unrefined Avocado carrier oil.
Helianthus annuus, Cocos nucifera, Persea americana, Juniperus communis, Foeniculum vulgare, Citrus paradisi, Cupressus sempervirens.