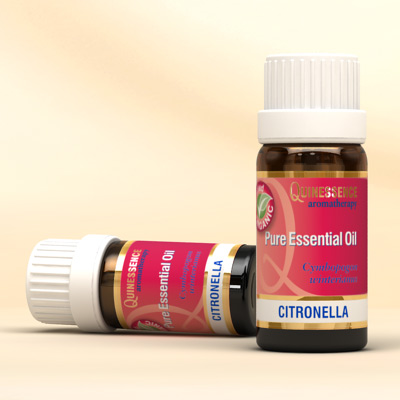 Citronella Essential Oil - Certified Organic
Uplifting, refreshing and antiseptic. Citronella is a grass that is native to Sri Lanka, and now a few dedicated farmers have been awarded Organic Certification for this essential from ECOCERT.
Two closely related species of citronella grass are used to produce citronella essential oil; Cymbopogon nardus which is known in the oil industry as 'Ceylon type', and Cymbopogon winterianus known as 'Java type'. Quinessence organic Citronella essential oil is obtained by steam distillation of the aromatic grass from Cymbopogon winterianus and it has a long-lasting, fresh citrus aroma.
Buy with confidence – 30 Day Money-back Guarantee
Not tested on animals – learn more
Botanical Name:

Cymbopogon winteranius

Country of Origin:

Madagascar

Extracted From:

Grass

Extraction Method:

Steam distillation

Principal Constituents:

Citronellal, trans-Geraniol, b-Citronellol, Geranyl acetate