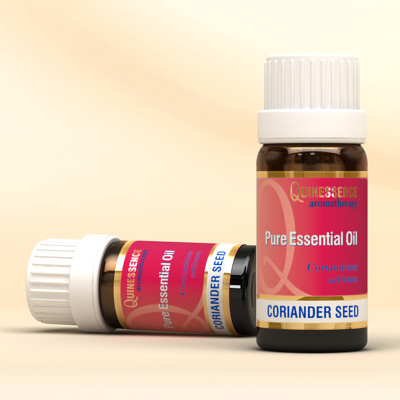 Coriander Seed Essential Oil
Antibacterial, stimulating and revitalising. Belonging to the same botanical family as carrot, celery and parsley, Coriander essential oil is obtained from either the seeds or leaves of the herb. In aromatherapy, the essential oil derived from the seeds is preferred due to its superior therapeutic qualities. It has a sweet, woody-spicy aroma that is uplifting to the spirits.
Coriander Seed essential oil has a revitalizing action that stimulates a sluggish circulatory system, plus it can re-energize flagging energy levels. When used in skin care, its recently-discovered antioxidant qualities* help to neutralize free radicals and rejuvenate skin cell production.
Like most spice oils, coriander can stimulate a poor appetite and ease digestive disorders when used in massage blends.
An essential oil that eases stress and promotes creativity
Coriander Seed essential oil has a sweet, woody-spicy aroma that has a calming effect on the mind that helps ease stress, and is also said to promote creativity.
* M.K. Shahwar, A.H. El-Ghorab, F.M. Anjum, M.S. Butt, S. Hussain, M. Nadeem, "Characterization of coriander (Coriandrum sativum L.) seeds and leaves: volatile and non volatile extracts" Int J Food Prop, 15 (2012), pp. 736–747
Buy with confidence – 30 Day Money-back Guarantee
Not tested on animals – learn more
Botanical Name:

Coriandrum sativum

Country of Origin:

France

Extracted From:

Fruit (seeds)

Extraction Method:

Steam distillation

Principal Constituents:

Linalool, Limonene, p-Cymene, 1,8 Cineole