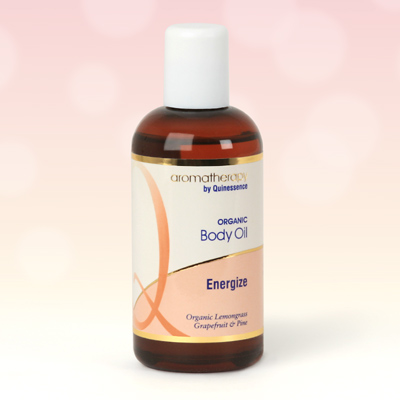 Energize Body Oil
Lemongrass, Grapefruit and Pine Needle.This stimulating blend can be used either before or after a busy day to refresh, energise and rejunvenate your entire being.
Invite an invigorating aroma into your self-care routine with fresh, lemony and citrus notes from the Lemongrass oil skilfully combined with the tangy, citrus aroma of Grapefruit essential oil.
When included in body massage blends, the strengthening properties of Pine Needle Essential Oil eases every-day muscular aches and joint stiffness, and its detoxing qualities are valuable in the battle against cellulite. Pine Needle oil helps to cancel negative emotions, and brings strength and comfort to sadness, burnout and stress.
Buy with confidence – 30 Day Money-back Guarantee
Not tested on animals – learn more
Contains Certified Organic Essential oils of: Lemongrass, Grapefruit, Pine, Spearmint and Cinnamon Leaf in blended Sunflower and Coconut carrier oil.
Helianthus annuus, Cocos nucifera, Cymbopogon citratus, Pinus sylvestris, Citrus paradisi, Mentha spicata, Cinnamomum zeylanicum.