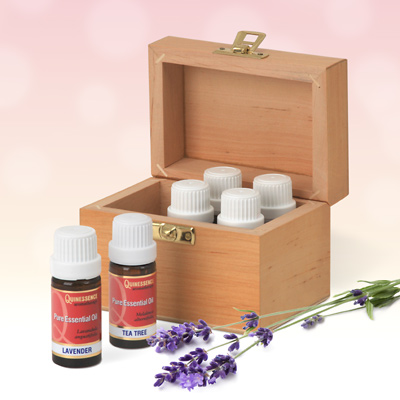 Essential Oil Kit (6 x 10ml Oils)
This compact yet versatile essential oil kit enables you to mix and blend a wide range of relaxing, balancing, antiseptic and revitalising treatments for you and your family.
Comprising of 6 x 10ml bottles of high quality Quinessence pure essential oils plus a hand-made Storage Box, this kit is excellent value for money. The oils have been specially selected to give you versatility of aroma for blending, plus a wealth of therapeutic benefits to your health and well being.
An attractive hand-made Alderwood storage box is included as part of the kit to keep your essential oils in perfect condition and protected from the damaging effects of light and heat, thereby prolonging their shelf life.
The stylish essential oil box is compact enough to take with you when you travel, so that you can enjoy using your essential oils wherever you go!
The essential oils in this kit include:-
Lavender French 10ml
Tea Tree 10ml
Eucalyptus globulus 10ml
Geranium 10ml
Orange sweet 10ml
Ylang Ylang 10ml
6 Space Alderwood box
And best of all, until this special offer runs out you can Save 10% Off our 6 Essential Oils Kit.
Order today and take advantage of this great offer whilst it lasts!
Buy with confidence – 30 Day Money-back Guarantee
Not tested on animals – learn more