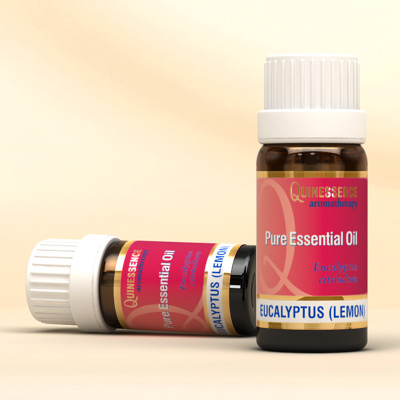 Eucalyptus Lemon Essential Oil
Antibacterial, stimulating and refreshing. With its refreshing lemon-citrus aroma, Lemon Eucalyptus Essential Oil has an uplifting yet calming action on the mind that also helps to improve concentration. Also known as Eucalyptus Citriodora oil, it is a highly effective fungicidal and bactericidal agent making it a valuable asset in the battle against fungal infections.
In common with other species of Eucalypts, Lemon Eucalyptus Oil is also an effective inhalant to help clear phlegm and stuffy sinuses when it's inhaled from a tissue or dispersed in a vaporizer. It also makes an excellent insect repellent and can be used alone or in blends with other respected repellent oils such as citronella, lemongrass, cedar atlas etc.
Buy with confidence – 30 Day Money-back Guarantee
Not tested on animals – learn more
Lemon Eucalyptus Essential Oil is a powerful fungicidal and bactericidal that has been scientifically evaluated many times against a wide range of organisms. In 2007, the antibacterial activity of Lemon Eucalyptus Essential Oil was tested against a battery of clinically important bacterial strains at the Phytochemical Pharmacological and Microbiological Laboratory in India.
During this research Eucalyptus citriodora (Lemon Eucalyptus) essential oil was found to be highly active against Alcaligenes fecalis and Proteus mirabilis, and active against Staphylococcus aureus, Escherichia coli, Proteus vulgaris, Salmonella typhimurium, Enterobacter aerogenes, Pseudomonas testosterone, Bacillus cereus and Citrobacter freundii. Its efficacy was found to be comparable to the antibiotics Piperacillin and Amikacin.
Botanical Name:

Eucalyptus citriodora / Corymbia citriodra

Country of Origin:

South America

Extracted From:

Eucalyptus citriodora

Extraction Method:

Steam distillation

Principal Constituents:

Citronellal, Isopulegol, p-Citronellol, neo-Isopulegol