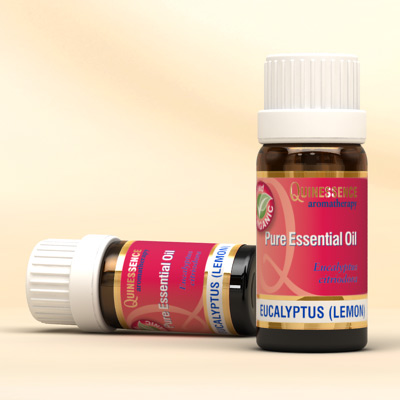 Eucalyptus Lemon Essential Oil - Certified Organic
Antifungal, antiseptic and clearing. produced in South America and certified organic by ECOCERT, we specifically chose this Lemon Eucalyptus Essential Oil for its lush, crisp, lemon type aroma with subtle herbal and balsamic undertones. It is popular as an air-freshener around the house and can be used to add a fresh, slightly citrusy-floral top note to blends, - but use it sparingly as it is very diffusive and easily dominates.
Don't let gently fragranced Lemon-scented Eucalyptus Oil fool you – it is a deceptively powerful fungicidal and antibacterial agent that has been repeatedly tested by scientists and proven to be highly active against a wide range of pathogens.
This essential oil is also a highly effective insect repellent that can be used both individually or in blends with other well known insect repellents such as citronella, lemongrass, cedar atlas, peppermint, rosemary etc. Lemon Eucalyptus Essential Oil is now considered by scientists to be one of the most effective plant-based insect repellents in nature.
Buy with confidence – 30 Day Money-back Guarantee
Not tested on animals – learn more
Botanical Name:

Eucalyptus citriodora

Country of Origin:

South America

Extracted From:

Leaves and twigs

Extraction Method:

Steam distillation

Principal Constituents:

Citronellal, Isopulegol, p-Citronellol, neo-Isopulegol