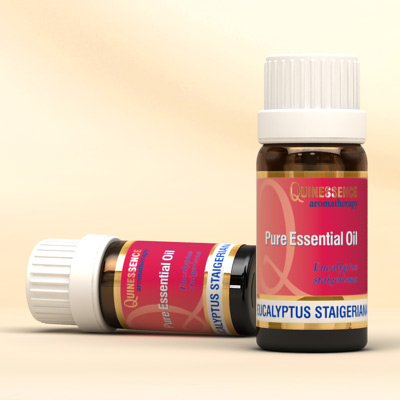 Eucalyptus Staigeriana Essential Oil
Antiseptic, antiviral and uplifting. The soft, sweet lemon-like aroma of Eucalyptus Staigeriana Essential Oil is quite different to Lemon Eucalyptus due to its totally different chemical composition. Aromatherapists find this essential oil beneficial for treating everyday aches and pains, toning muscles, and respiratory inhalations. It is gentle enough for inhalation use with children over the age of 3 years.
The therapeutic properties of Eucalyptus Staigeriana Essential Oil make it an ideal choice during the cold season when it can be vaporized to kill airborne bacteria and stop the spread of germs. It can be used effectively to sweeten blends of other powerful antiviral essential oils without reducing their effectiveness.
On the emotional system Eucalyptus Staigeriana Essential Oil has an uplifting effect, whist at the same time it brings a calmness to the mind which is supportive during periods of turmoil and uncertainty in life.
Buy with confidence – 30 Day Money-back Guarantee
Not tested on animals – learn more
Botanical Name:

Eucalyptus staigeriana

Country of Origin:

Australia

Principal Constituents:

a&b Phellandrene, Terpinolene, Limonene, Geranial.