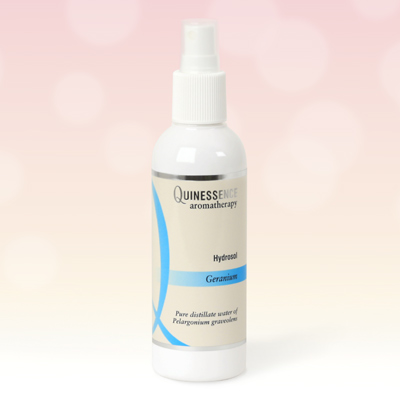 Geranium Hydrosol
Balancing, Soothing and Refreshing With a lovely feminine fragrance, Geranium hydrosol is great as a facial spritzer to refresh both the skin and the tired mind.
A great hydrosol to use as a facial spritz to refresh both the skin and mind. Due to Geranium's renowned ability to act as a balancer, this product tones, balances and rehydrates all skin types.
Perfect as a travel companion to give you a happy uplifted feeling whilst others around you are hot, tired and exhausted - or alternatively take it to the office to enhance your well being at work.
Buy with confidence – 30 Day Money-back Guarantee
Not tested on animals – learn more
Country of Origin: Scilly Isles


Botanical Name: Pelargonium graveolens


Extracted From: Leaves


Extraction Method: Steam distillation