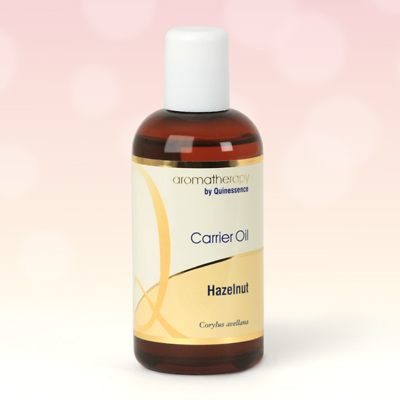 Hazelnut Carrier Oil
Cold Pressed. Due to its very high content of Vitamin E, Hazelnut Oil delivers excellent moisturising and skin-softening benefits together with rapid absorption, making it exceptional for facial treatments. It is a great emollient and protects against moisture loss and has a stimulating action on the capillary system.
When used as a carrier oil in aromatherapy massage, Hazelnut Oil provides excellent lubrication without feeling excessively oily. It is rich in polyphenols and flavinoids which contribute towards it having a dry feeling on the skin, together with the added benefit of providing astringent properties.
This astringency means it is also an effective skin tonic that helps to regenerate cells, tighten and tone skin, and strengthen surface capillaries. Therefore Hazelnut Oil can be a very good choice for oily and pimple prone skin types, as well as sensitive and baby skin.
Hazelnut Oil contains a high proportion of linoleic acid, which is an essential fatty acid that works to maintain the integrity of the outer layer of the skin. In addition to its high levels of Vitamin E (only sunflower oil contains a higher concentration) it is also contains Vitamins A and B.
Buy with confidence – 30 Day Money-back Guarantee
Not tested on animals – learn more
Typical essential fatty acid profile:-
C16:0 Palmitic acid 4 - 9%
C16:1 Palmitoleic acid 0.1 - 0.8%
C18.0 Stearic acid 1 - 4%
C18:1 Oleic acid 71 - 87%
C18:2 Linoleic acid 7 - 18%
C18:3 Linolenic acid 0.1 - 0.5%
C20:0 Arachidic 0.1 - 0.5%
C20:1 Gadoleic 0.1 - 0.3%
C22:0 Behenic 3% max
Botanical Name:

Corylus avellana

Country of Origin:

Spain

Extracted From:

Seed kernels

Extraction Method:

Cold pressed