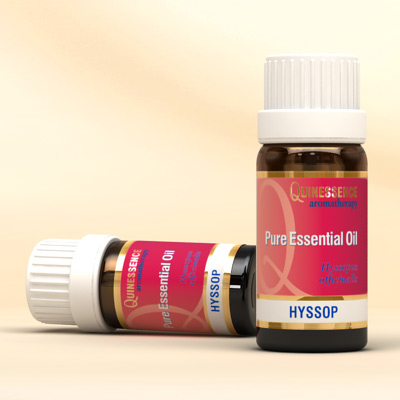 Hyssop Essential Oil
Fortifying, cleansing and soothing. The herb hyssop has a long religious and medicinal history, and its name can be traced back to the Greek term 'hysopos' which is itself derived from the Hebrew word 'azob' or 'ezob' meaning 'holy herb'. Hyssop Essential Oil has a fresh herby aroma that increases mental alertness, stimulates creativity, helps combat fatigue, and is valuable during springtime when the pollen count is high.
Hyssop Essential Oil has a stimulating action on all systems of the body, making it a useful addition to detox programs and to boost the immune system. In massage blends its antispasmodic properties helps ease muscle cramps, spasms and tickly coughs, whilst its powerful soothing action eases the digestive system as well as reducing bumps and bruises.
The strengthening and cleansing action of hyssop is particularly valuable for the emotional system when dealing with negative emotions such as grief, guilt or jealousy.
Avoid use if you are pregnant or suffer from epilepsy.
Buy with confidence – 30 Day Money-back Guarantee
Not tested on animals – learn more
Botanical Name:

Hyssopus officinalis

Country of Origin:

France

Extracted From:

Flowering tops

Extraction Method:

Steam distillation

Principal Constituents:

Pinocamphone, b-Pinene, iso Pinocamphone, Germacrene D