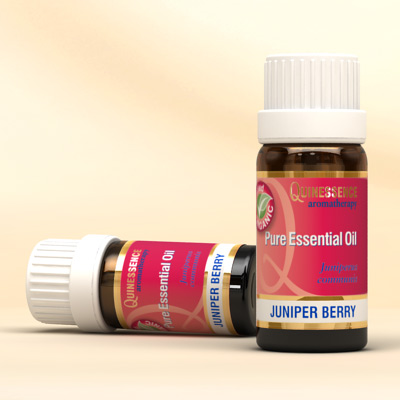 Juniper Berry Essential Oil - Certified Organic
Purifying, stimulating and toning. With its refreshing, balsamic and slightly fruity aroma, this organic Juniper Berry Essential Oil from Italy is bursting with purifying and energizing health-giving properties. It has a powerful purifying and detoxifying action that makes it perfect for aromatherapy massage treatments.
Juniper Berry Essential Oil is nearly every aromatherapists first choice in the fight against cellulite, especially when it is blended together with other similar essential oils in massage treatments. The cleansing and stimulating action of Juniper Berry Oil can also be used to great effect in massage and bath soaks for stiff joints and muscles after a hectic day or over-training in the gym.
In skin care treatments it also acts as a tonic for all skin types. Problem skin conditions such spots, dull, oily and congested skin respond very well to organic Juniper Berry Essential Oil, where it imparts an antiseptic, astringent and soothing action. Its cleansing and strengthening action also helps clear out negative emotions such as insecurity, loneliness, sadness and guilt.
Buy with confidence – 30 Day Money-back Guarantee
Not tested on animals – learn more
Botanical Name:

Juniperus communis

Country of Origin:

Italy

Extracted From:

Berries

Extraction Method:

Steam distillation

Principal Constituents:

a-Pinene, Sabinene, Terpinene-4-ol, Myrcene