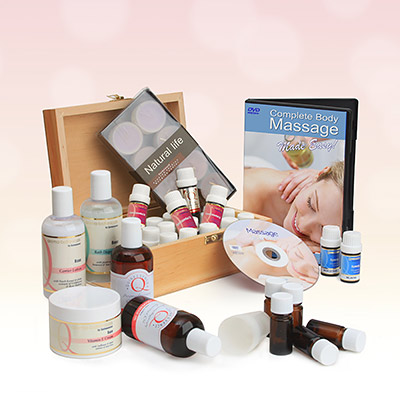 Large Aromatherapy Starter Kit
This is our best deal of the year, and it makes the perfect gift for someone who loves aromatherapy. We're knocking a whopping 20% OFF the regular price of this fantastic Aromatherapy Starter Kit - plus you also get a Massage DVD worth £16.99 – absolutely FREE!
'Complete Body Massage Made Easy!' is a high quality, instructional DVD that teaches you step-by-step how to perform a safe and effective massage for friends and family of all ages, all in the comfort of your own home. And it's yours FREE, when you take advantage of this offer.
This bumper-sized Aromatherapy Kit includes includes a collection of 20 Essential Oils, 2 Essential Oil Synergies, 5 Carrier Bases, 5 Glass Bottles, 5 Plastic Pipettes, 5 Measuring Cups, 12 Lavender Tealights, a hand-made 24 Space Essential Oil Storage Box, plus a FREE copy of our best-selling instructional video, 'Complete Body Massage Made Easy' DVD.
This Large Aromatherapy Kit includes;-
Undiluted Pure Essential Oils
Bergamot 5ml, Black Pepper 5ml, Chamomile Roman 2.5ml, Clary Sage 5ml, Cypress 5ml, Eucalyptus 5ml, Frankincense 5ml, Geranium 5ml, Ginger 5ml, Grapefruit 5ml, Lavender 5ml, Lemon 5ml, Lemongrass 5ml, Marjoram Sweet 5ml, Petitgrain 5ml, Peppermint 5ml, Rosemary 5ml, Tea Tree 5ml, Ylang Ylang 5ml, Rose 5% Dilution 5ml.
Essential Oil Synergies
Relaxing Synergy 5ml, Muscle Ease Synergy 5ml.
Carrier Bases
Peach Kernal 100ml, Grapeseed 100ml, Carrier Lotion Base 100ml, Vitamin E Cream Base 100ml, Bath Dispersant 100ml.
Accessories
Amber Glass Bottles 5 x 5ml Pack, Plastic Measuring cup x 5, Plastic Pipettes x 5, Lavender Tea Lights (pack of 12), and a hand-made wooden 24-Space Essential Oil Storage Box.
FREE - Complete Body Massage DVD.
FREE - Delivery to your door.
But you really must hurry - place your order NOW to save over 20% on this bumper-sized Aromatherapy Kit and claim your FREE Massage DVD.

This offer is being strictly limited to only the first 75 customers who place an order, so don't leave it too late because when they're gone, they're gone!
Buy with confidence – 30 Day Money-back Guarantee
Not tested on animals – learn more