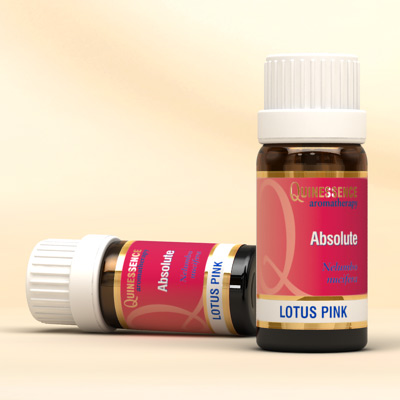 Lotus (Pink) Absolute Oil
Rejuvenating, relaxing and uplifting. Many cultures regard the lotus flower as a symbol of enlightenment, purity, peace and beauty, and it is only quite recently that this rare and precious aromatic extract became available. Deeply relaxing, Pink Lotus Absolute brings peace and tranquillity, and when used as an aid to meditation it helps us to achieve a deeper level of understanding.
In skin care treatments Pink Lotus Absolute slows the signs of aging and brings a cooling, soothing and rejuvenating action to sensitive, dry and mature skin types - but only a tiny amount is required because a little goes a long way with this oil! Its relaxing and spiritually uplifting qualities are ideal for relieving negativity, anxiety and stress, and help to restore, recharge and revitalise holistically.
Pink Lotus Absolute has a mysterious and exotic fragrance that unfolds slowly like the flowers themselves. Complex earthy, spicy and slightly green-medicinal notes are slowly replaced by a soft and honeyed floral heart notes as the aroma opens up. As always, since it is highly concentrated it must be appropriately diluted to appreciate its unique character.

Like many of the absolutes used in natural perfumery, Pink Lotus Absolute does not fully represent the fragrance of the flower it was derived from, so for those who are not familiar with it, pink lotus can be an acquired taste.

Lotus Pink Absolute is also available from Quinessence as a 5% Dilution.
Buy with confidence – 30 Day Money-back Guarantee
Not tested on animals – learn more
Please note: Pink Lotus Absolute has a rich consistency and at cold temperatures this oil sometimes sets completely. Simply placing the bottle in warm water for 10 to 15 minutes will get the oil flowing properly. Like several other floral absolutes, it can be a difficult material to blend due to the natural waxes present in it. So if you do not have any experience using this material we recommend purchasing the Lotus Pink 5% dilution instead.
Botanical Name:

Nelumbo nucifera

Country of Origin:

India

Extracted From:

Flowers

Extraction Method:

Solvent/alcohol extraction

Principal Constituents:

Alkanes & Alkenes, Caryophyllene oxide, 1,4-Dimethoxybenzene, b-Caryophyllene, Limonene, a-Cadinol, d-Cadinol.