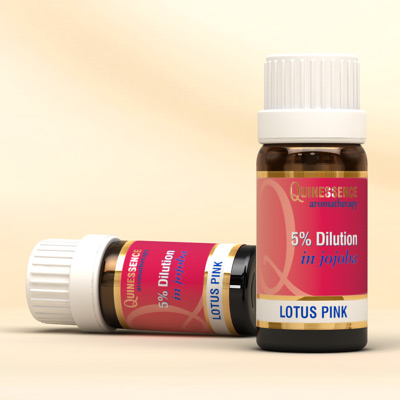 Lotus (Pink) 5% Dilution
Rejuvenating, relaxing and uplifting. In many cultures, the lotus flower is regarded as a symbol of enlightenment, purity, peace and beauty. And thanks to modern extraction techniques we can now enjoy the many benefits of the oil obtained from pink lotus flowers. Pink Lotus Oil brings peace and tranquillity, and when used as an aid to meditation it helps us to achieve a deeper level of understanding.

This dilution of Pink Lotus has an exotic and mystical fragrance than unfolds slowly like the flowers themselves. It is complex, with earthy, spicy and slightly green-medicinal notes that over time are replaced by a soft and honeyed floral heart notes. Its relaxing and spiritually uplifting qualities are perfect for relieving states of negativity, anxiety and stress, and it help revitalize, recharge and restore in a truly holistic way.
In skincare treatments Pink Lotus Oil helps to slow the signs of aging, and it is cooling and soothing to hot, irritated, and problem skin. The stabilising action of Pink Lotus helps dispel negative emotions and thoughts, helping to strengthen relationships.
Like many of the absolutes used in natural perfumery, Pink Lotus Absolute does not fully represent the fragrance of the flower it was derived from, so for those who are not familiar with it, pink lotus can be an acquired taste.
Buy with confidence – 30 Day Money-back Guarantee
Not tested on animals – learn more
Botanical Name:

Nelumbo nucifera

Country of Origin:

India