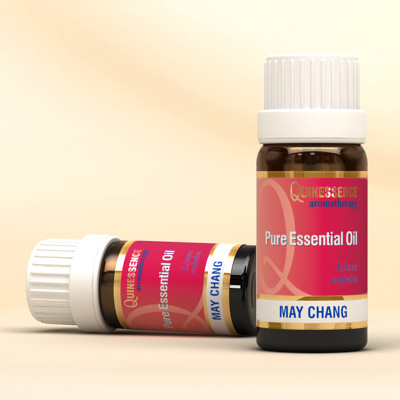 May Chang Essential Oil
Antiseptic, balancing, and revitalizing. Also known by its botanical name of Litsea cubeba, May Chang Essential Oil has a wonderful sweet citrus-lemon fragrance which imparts a positive and energising effect. If you're suffering from the blues just add a few drops of this oil to your diffuser for a fast pick-me-up. And because this oil uplifts the nervous system it makes it ideal for clearing your head when you are feeling fatigued, anxious or stressed.

Because it is a powerful antiseptic, May Chang Essential Oil is also great for cleansing jobs around the home such as sterilizing kitchen worktops. To boost its effectiveness, blend May Chang oil with tea tree and you'll have a powerful cleansing action without the unpleasant disinfectant-like aroma. When vaporised it helps to neutralise stale cooking smells etc.
In skincare May Chang Essential Oil has an astringent and antiseptic action that can be used to regulate an oily complexion and treat spots and blemishes. It is also a very effective deodorant that helps to reduce excess perspiration, so added to a lotion it can be used to make an all-over body lotion. This oil may be mildly sensitising to a few individuals, but since it has a powerful aroma you only need a small amount which reduces the likelihood of it being a problem for most people.
Buy with confidence – 30 Day Money-back Guarantee
Not tested on animals – learn more
Botanical Name:

Litsea cubeba

Country of Origin:

China

Extracted From:

Fruit

Extraction Method:

Steam distillation

Principal Constituents:

Geranial, Neral, Limonene, Geraniol, Verbenol, Isopulegone, Citronellal.