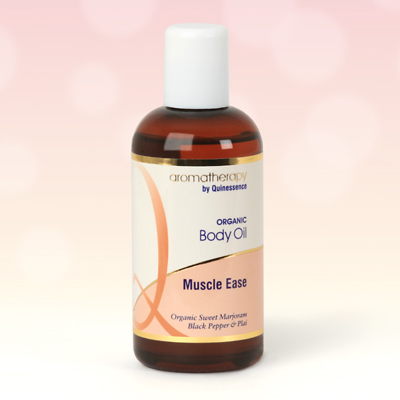 Muscle Ease Body Oil
Marjoram Sweet, Black Pepper and Plai. A warming body oil blend to relax and ease tight and aching muscles after a strenuous day or workout.
Marjoram Sweet essential oil has a spicy, herbaceous-woody aroma. When used in aromatherapy massage treatments, it excels in easing everyday muscular aches and spasms. Its warming, and relaxing action helps bring quick relief to tired, overworked muscles by increasing the body's blood circulation during a massage.
Plai essential oil has been used for hundreds of years by Thai massage therapists to treat a wide range of general aches and pains, and Black Pepper oil restores suppleness to stiff muscles, making this a highly versatile aromatherapy massage oil for all types of muscular problems.
This body massage oil blend is also very warming and comforting when massaged on the abdomen before and during menstruation.
Buy with confidence – 30 Day Money-back Guarantee
Not tested on animals – learn more
Contains Certified Organic Essential oils of: Sweet Marjoram, Plai, Black Pepper, Roman Chamomile and Clove Bud in blended Sunflower, Coconut and Black Seed carrier oil.
Helianthus annuus, Cocos nucifera, Nigella sativa, Origanum majorana, Zingiber cassumunar, Piper nigrum, Anthemis nobilis, Syzygium aromaticum.