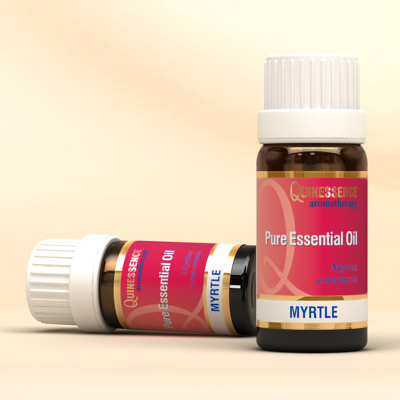 Myrtle Essential Oil
Antiseptic, cleansing and balancing. Used in skin care blends, Myrtle Essential Oil is a powerful tonic for devitalized skin, and highly regarded for its astringent properties that improve oily, irritated and acne-prone skin. Since it is an effective non-irritating antiseptic agent, this oil can be used to prevent infection under a wide range of circumstances.
Along with eucalyptus and tea tree, Myrtle Essential Oil belongs to the Myrtaceae family, so it is not too surprising that this oil also possesses antiviral, bactericidal, fungicidal and germicidal properties. Due to its gentle action, aromatherapists often prefer to use myrtle rather than other antiseptic oils when treating children or the elderly, particularly when used for respiratory relief with tickly coughs and catarrh.
Myrtle Essential Oil has a fresh, herbaceous-spicy aroma that is a little reminiscent of eucalyptus, but warmer and sweeter. In common with certain other essential oils, myrtle is a potent adaptogen, which means it is a natural substance that helps the body regulate either under, or over-stimulated hormones or functions. This regulating effect of Myrtle Essential Oil has recently been investigated in research where it was tested restore reduced thyroid function in the body (hypothyroidism).
Buy with confidence – 30 Day Money-back Guarantee
Not tested on animals – learn more
Botanical Name:

Myrtus communis

Country of Origin:

Tunisia

Extracted From:

Leaves and twigs

Extraction Method:

Steam distillation

Principal Constituents:

a-Pinene, 1,8 Cineole, Linalool, Limonene, Geranyl acetate, Myrtenyl acetate