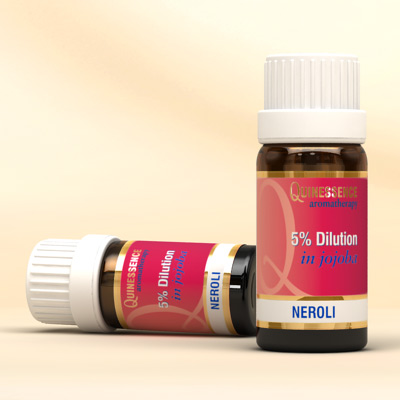 Neroli 5% Dilution
Rejuvenating, relaxing and restoring. Neroli essential oil is obtained from the blossoms of the freshly picked blossoms of the Bitter Orange tree, and it's beautiful sweet citrusy-floral aroma is loved by women and men alike. Like some other floral essential oils such as jasmine and rose, neroli is a completely balanced fragrance all on its own, and is used to form the heart of one of the world's most enduring perfumes, 'Eau de Cologne'.
When used in skin care treatments, neroli essential oil has the ability to stimulate new cell growth which makes it invaluable for very dry or mature skin types. When this dilution is used regularly as part of a skin care regimen, it can improve the skin's natural elasticity, reduces facial thread veins, and works to soften scars and wrinkles.
Neroli oil can be used effectively when blended in carrier oils, base creams and lotions to treat a wide range of skin problems. It is one of nature's most effective antidepressant essential oils, which combined with its emotionally balancing and sedative properties makes it ideal with a wide range of negative emotional conditions, stress and anxiety, menopause, and insomnia. The combination of these therapeutic properties may help to explain Neroli Essential Oil's legendary reputation as a highly effective aphrodisiac!
Buy with confidence – 30 Day Money-back Guarantee
Not tested on animals – learn more
Botanical Name:

Citrus aurantium amara

Country of Origin:

Tunisia