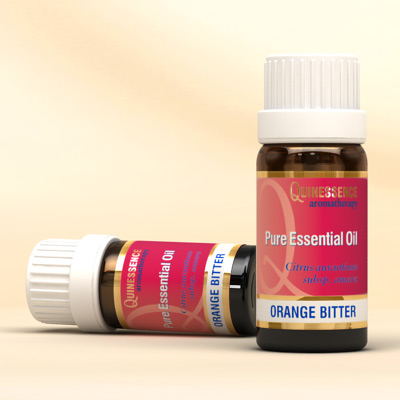 Orange Bitter Essential Oil
Antiseptic, toning and stimulating. The therapeutic properties of Bitter Orange Essential Oil are considered to be very similar to those of sweet orange, and in some circumstances the bitter variety appears more potent and often yields even better results than its sweet counterpart. It has a fresh, citrus aroma very similar to that of sweet orange, with a bitter and dry aspect similar to grapefruit.
The cleansing, stimulating and toning action of Bitter Orange Essential Oil makes it ideal to add to other stimulating oils for treating cellulite or as part of a detoxification program. Since it is antiseptic and astringent it combats oily and teenage skin, plus it can help to reduce facial thread veins, especially when blended with cypress oil. Due to the benefits provided by the massage action, it can assist in the treatment of poor digestion.
On the emotional system Bitter Orange Oil has an uplifting yet calming action, and it can be vaporized to help dispel tantrums and frustration for both adults and children alike! It neutralizes and disperses unwanted cooking and pet odours very efficiently, and creates a lovely cheering, warm and sunny atmosphere around the house at any time of year. It has an enlivening effect on the emotions, helping to overcome rejection.
Buy with confidence – 30 Day Money-back Guarantee
Not tested on animals – learn more
Botanical Name:

Citrus aurantium subsp. Amara

Country of Origin:

Ivory Coast

Extracted From:

Zest of the fruit

Extraction Method:

Expressed

Principal Constituents:

:- d-Limonene, Myrcene, Octanal, Decanal, Sabinene, Linalool, a – Pinene, Neral.