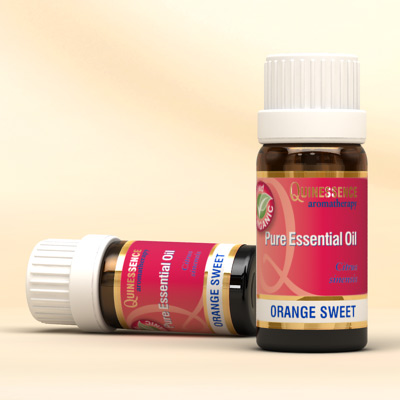 Orange Sweet Essential Oil - Certified Organic
Antiseptic, toning and stimulating . Bursting with citrus freshness, this Organic Sweet Orange Essential Oil from Brazil has a joyful, well rounded citrus aroma with lots of zest. This extremely popular essential oil has wonderfully cheering and refreshing properties, ideally suited for mood enhancing and room fragrancing. When blended with spice oils and used in a diffuser it is absolutely perfect to create a warm sunny atmosphere during the chilly winter weather.
Organic Sweet Orange Essential Oil is lymphatic stimulant and therefore is an ideal choice in the battle against cellulite, and its cleansing and toning qualities are perfect for detox treatments. This oil re-energises the muscular and nervous systems, so in massage blends applied to the abdomen it can help stimulate poor digestion and ease common tummy upsets.
The antiseptic properties of Organic Sweet Orange Essential Oil can help keep invading bacteria at bay wherever it is used, either on the body or around the home as an antibacterial agent. Don't overlook its toning and stimulating qualities that can be used in skin care blends, where it can be used to stimulate the micro-circulation of blood which encourages skin cell renewal, combats wrinkles, balances oily skin, and rejuvenates a dull, lifeless complexion.
Buy with confidence – 30 Day Money-back Guarantee
Not tested on animals – learn more
Botanical Name:

Citrus sinensis

Country of Origin:

Brazil

Extracted From:

Zest of the fruit

Extraction Method:

Expressed

Principal Constituents:

d-Limonene, Myrcene, a-Pinene