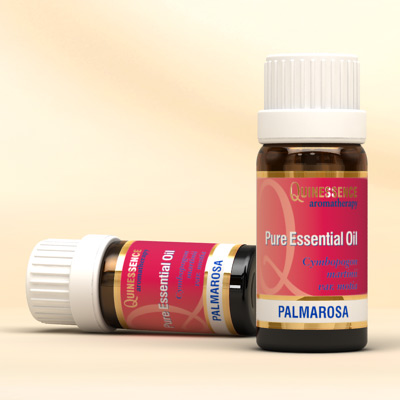 Palmarosa Essential Oil
Antifungal, soothing and rejuvenating. Palmarosa is a versatile essential oil that seems undervalued in aromatherapy, perhaps due to poor coverage in books. It is a powerful antimicrobial that can out-perform tea tree as an antifungal agent.
It has an unusual, exotic rose-like fragrance that is quite distinctive, and works great in a wide range of applications. And when used in skincare, Palmarosa Essential Oil simply excels. It balances sebum production, stimulates cellular regeneration, encourages elasticity, moisturises dry and mature skin, plus it effectively combats acne. All this, at a fraction of the cost of rose oil!
In massage blends Palmarosa Essential Oil can be used to help the discomfort associated with overworked muscles and joints, well as soothing general aches and pains, cramps, and tummy upsets. Due to its soothing yet uplifting properties, palmarosa oil is valuable when treating emotional conditions such as stress.
Buy with confidence – 30 Day Money-back Guarantee
Not tested on animals – learn more
Botanical Name:

Cymbopogon martinii

Country of Origin:

India

Extracted From:

Grass

Extraction Method:

Steam distilled

Principal Constituents:

Geraniol, Geranyl acetate, Linalool, b-Caryophyllene