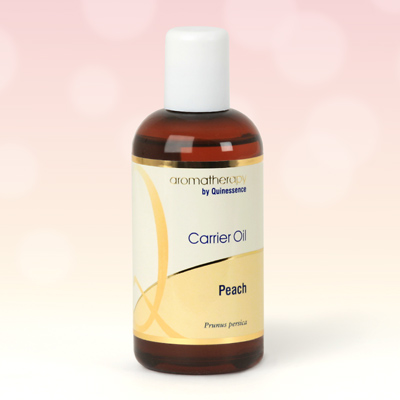 Peach Kernel Carrier Oil
Cold Pressed. An emollient oil with a light texture that is perfect for facial treatments, Peach Oil, an essential oil with carrier oil, contains generous quantities of both oleic and linoleic fatty acids together with vitamins A and E. This means that that Peach Oil contains natural anti-ageing components that work together to encourage skin suppleness and elasticity.

Peach Oil's light consistency and ability to absorb quickly into the skin means it is especially suited to facial beauty treatments, where it delivers moisture to dry and mature skin types. It is great as a simple overnight facial treatment, and leaves skin feeling beautifully soft and supple.
Many aromatherapists prefer using Peach Oil for full body massage treatments because it provides more skin moisturising and softening qualities than the more popular oils such as almond or grapeseed. Although Peach Oil can't compete with the benefits offered by some of the other more exotic carrier oils, it is certainly an extremely cost effective alternative choice.
Buy with confidence – 30 Day Money-back Guarantee
Not tested on animals – learn more
Typical essential fatty acid profile:-
C16:0 Palmitic acid 5 - 8%
C18:1 Oleic acid 55 - 75%
C18:2 Linoleic acid 15 - 35%
Botanical Name:

Prunus persica

Country of Origin:

Spain

Extracted From:

Seed kernels

Extraction Method:

Cold pressed