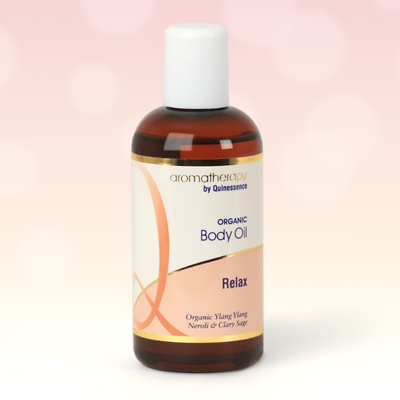 Relax Body Oil
Ylang Ylang, Neroli, Clary Sage and Geranium. The sensual and deeply relaxing qualities of these three oils harmoniously combine to make this the perfect relaxing body massage oil.
Ylang Ylang oil has a powerful relaxing action, with a fruity and flowery aroma that is considered a natural aphrodisiac. When combined with the beautifully floral scent of neroli essential oil, it creates floral-citrusy overtones that invite you to embrace a deep state of deep relaxation and comfort. So usher in the springtime with this aromatherapy massage oil and feel yourself disappear in a state of comfort and relaxation.

To complement this powerful essential oil blend, Clary Sage adds a woody and herbaceous element to the mix. It's powerful relaxant properties combine with those of Geranium essential oil to create a balanced synergistic blend that soothes and calms stress, agitation and rampant emotions.
The perfect body oil blend to promote general relaxation, wellness and to leave your skin soft and glowing. It will simultaneously moisturise and improve the condition of your skin.
Buy with confidence – 30 Day Money-back Guarantee
Not tested on animals – learn more
Contains Certified Organic Essential oils of: Ylang Ylang, Neroli, Clary Sage, and Geranium bourbon in blended Sunflower and Coconut carrier oil.
Helianthus annuus, Cocos nucifera, Cananga odorata, Citrus aurantium amara, Salvia sclarea, Pelargonium graveolens.