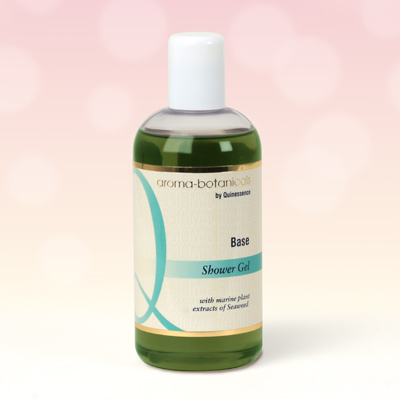 Shower Gel Base
Fragrance Free. The mild and gentle formula of this shower gel base for adding your own essential oils ensures total suitability for the most sensitive skin. Containing mineral and nutrient-rich Seaweed, this luxury shower gel base lathers easily to deep cleanse and tone the whole body, without disturbing the skin's delicate pH balance
.
This luxury Shower Gel Base was specially formulated so that you can create your own personal aromatherapy shower gels from the comfort of your home. The extended benefit of using a gentle shower gel base enriched with active botanical extracts means there are no harsh or drying chemicals involved. Therefore, your skin will look and feel softer right away.
We included Seaweed because it is a powerful natural ingredient containing proteins which help to fight premature ageing of the skin by restructuring collagen and regenerating elastin. It also contains amino acids that have a stimulating, revitalizing and nourishing effect on the skin as well as offering antibacterial and skin healing benefits.Sea Lavender extract has nourishing properties and is a valuable agent for moisturising and softening the skin.
Simply add your favourite essential oils to make your own unique, invigorating and reviving shower gel. Get imaginative and create your personal, oil-infused wellness experience!
Quinessence Shower Gel Base enables you to get creative by adding your favourite essential oils and blends of your choice for a daily luxurious, personalised shower. Simply add a few drops of essential oils, mix, and enjoy!
Buy with confidence – 30 Day Money-back Guarantee
Not tested on animals – learn more
Aqua, Ammonium laureth sulfate, Cocamidopropyl betaine, Sodium chloride, Polysorbate-20, Citric acid, Fucus vesiculosus, Limonium vulgare, Gluconolactone, Sodium benzoate, Calcium gluconate, CI 75810.