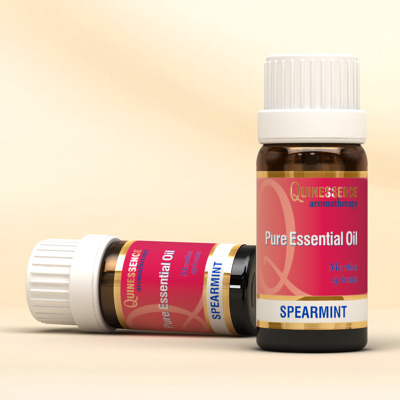 Spearmint Essential Oil
Antimicrobial, cooling and reviving. Spearmint Essential Oil shares some of the therapeutic properties of peppermint, and has its own unique properties too. It has the additional benefit of containing less menthol which gives it a softer, warmer, sweet minty fragrance that some people prefer. Distilled from the leaves of the herb, this oil is very clearing, making it a good inhalant oil that is particularly good for reviving mental fatigue and improving focus without being over-stimulating.
In massage blends the cooling effects of Spearmint Essential Oil can be used to soothe nausea, flatulence, and tummy upsets, or to ease aching muscles and joints after sports or a physically demanding day. Inhaled from a tissue it can be used to clear the head and dispel negative emotions.
The antibacterial properties of Spearmint Essential Oil make it useful for treating dandruff and an itchy scalp, where it cools and soothes as well as energising and stimulating the hair follicles, encouraging healthy hair growth. Spearmint also makes an effective and refreshing antibacterial mouth wash.
Buy with confidence – 30 Day Money-back Guarantee
Not tested on animals – learn more
Botanical Name:

Mentha spicata

Country of Origin:

USA

Extracted From:

Flowering tops

Extraction Method:

Steam distillation

Principal Constituents:

Carvone, Limonene, Myrcene, 1,8 Cineole, cis-Dihydrocarvone, B-bourbonene