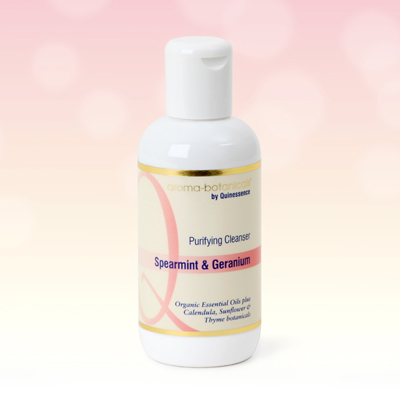 Spearmint & Geranium Cleansing Lotion
Organic Spearmint, Geranium, Eucalyptus and Chamomile. If you have sensitive skin then you already know you need a cleanser that is gentle, yet effective enough to get the job done without causing irritation. That's why we have included only the gentlest natural botanicals and organic essential oils in this light, velvety smooth daily cleansing lotion.
Enriched with soothing Aloe Vera and Calendula botanicals, this purifying cleanser preserves the skin's natural moisture balance while it gently lifts make-up, dirt and impurities leaving your skin feeling soft, fresh and deeply cleansed. A little goes a long way with this purifying cleanser which is suitable for all skin types, and it can be washed or tissued off.
Great facial care treatment
Organic essential oils of Spearmint, Geranium and Eucalyptus provide a truly refreshing and deep-cleansing experience, whilst soothing Lavender and Roman Chamomile oils deliver even more skin calming properties to irritated or sensitive skin.
Buy with confidence – 30 Day Money-back Guarantee
Not tested on animals – learn more
Aqua, Caprylic/Capric Triglyceride, Prunus Amygdalus, Helianthus Annuus, Polysorbate 60, Sorbitan Stearate, Cetearyl Alcohol, Dimethicone, Aloe Barbadensis, Pelargonium Graveolens, Mentha Spicata, Eucalyptus Globulus, Anthemis Nobilis, Lavandula Angustifolia, Carbomer, Disodium EDTA, Calendula Officinalis, Citric Acid, Sorbic Acid, Gluconolactone, Sodium Benzoate, Calcium Gluconate.