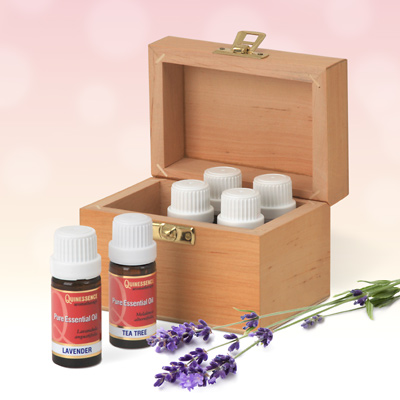 6 X 10ml 'Home Essentials' Oil Kit Plus Free Storage Box
Until the end of September you can get a handy 15% OFF the price of this versatile selection of 6 Pure Essential Oils! And that's not all  – you will also receive a FREE hand-made wooden Essential Oil Storage Box worth £12.99 to keep them in!
Compact and versatile, this Home Essentials Kit enables you to create a wide range of antibacterial and antiseptic blends to protect you and your family, and also includes oils to relax, balance and energise everyone during this stressful time.  
The attractive hand-made Alderwood Storage Box will keep your essential oils in perfect condition and protected from the damaging effects of light and heat, thereby prolonging their shelf life. It's even small enough to carry with you when you travel, so that you can enjoy using your essential oils wherever you go.
This versatile Essential Oil Kit includes:-

* Cedarwood Atlas Essential Oil 10ml
* Cinnamon Leaf Essential Oil 10ml
* Geranium Essential Oil 10ml
* Lavender French Essential Oil 10ml
* Lemongrass Essential Oil 10ml
* Tea Tree Essential Oil 10ml
* FREE 6 Space Alderwood Storage Box
* FREE Delivery
But don't delay - the offer of a free Storage Box is strictly limited to the first 50 customers who place an order. Place your order NOW and claim your FREE 6 Space Essential oil Storage Box - before they're all gone!
Buy with confidence – 30 Day Money-back Guarantee
Not tested on animals – learn more