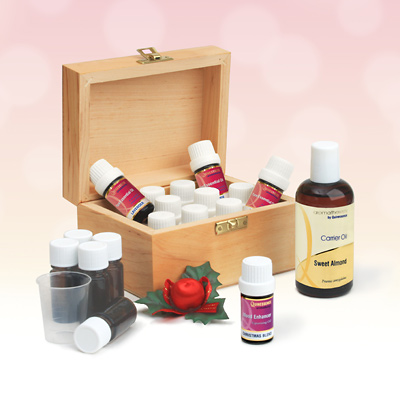 Aromatherapy Kit - Xmas Special Offer
Are you are looking for a really special Christmas present for a friend or loved one? If they are interested in aromatherapy then your search may be over. Right now you can save over 15% off this fantastic Aromatherapy Starter Kit that includes a great selection of the most versatile and useful items you need to enjoy real aromatherapy.
And there's more. To help you create a cheery festive atmosphere in your home this Christmas you will also receive a 5ml bottle of our hugely popular Xmas Blend Mood Enhancer with our complements!
This special Christmas Kit contains:-
* Bergamot Essential Oil 5ml
* Cedar Atlas Essential Oil 5ml
* Eucalyptus Essential Oil 5ml
* Grapefruit Essential Oil 5ml
* Lavender Essential Oil 5ml
* Lemon Essential Oil 5ml
* Marjoram Sweet Essential Oil 5ml
* Orange Sweet Essential Oil 5ml
* Peppermint Essential Oil 5ml
* Rosemary Essential Oil 5ml
* Tea Tree Essential Oil 5ml
* Ylang Ylang Essential Oil 5ml
* Sweet Almond Carrier Oil 100ml
* 5 x 5ml Amber Glass Bottles
* Plastic Mixing Cup 30ml
* 12 Space Essential Oil Storage Box
* Plus a FREE Christmas Blend Mood Enhancer 5ml
The attractive hand-made storage box is made of Alder wood and has a natural satin finish that will accessorise and blend perfectly in your bathroom or bedroom etc. Featuring a useful brass clasp, this stylish Storage Box will hold 12 x 5ml or 10ml bottles of essential oils, protecting them from heat and sunlight thereby keeping them in perfect condition.
But you need to hurry - because this year we only have 80 Starter Kits we can offer with this discount, and at the end of the month the offer will close.
Order your Aromatherapy Starter Kit today, enjoy a massive saving of over 15% off the regular price - and claim your FREE bottle of Christmas Blend Mood Enhancer before they are all gone!
Buy with confidence – 30 Day Money-back Guarantee
Not tested on animals – learn more