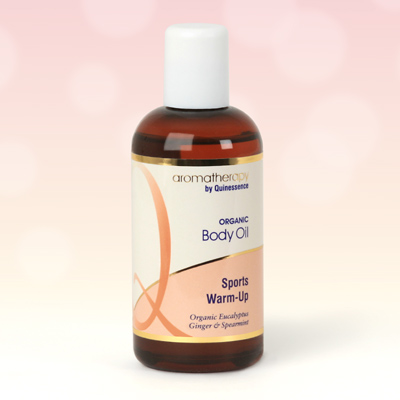 Sports Warm-Up Body Oil
Ginger, Eucalyptus, Black Pepper and Spearmint We all know that you need to warm up your muscles before sports and exercise to gradually get your whole body prepared for activity. Your muscles work better at a warmer temperature, and the increased blood flow helps avoid injury and improves performance.
The expert blend of warming and energizing organic essential oils in our Sports Warm-Up Body Oil can enhance your performance in sports and exercise by incorporating exactly the same principles.
The organic essential oils of ginger, eucalyptus, black pepper, clove bud, and spearmint are a powerful blend. This unique combination is ideal for active individuals. Massaging your body with this oil helps prevent any injuries during physical activity. So, if you're looking to warm up those muscles and give your best on the court or at the gym, you've got a workout buddy in this body massage oil!
The increased blood circulation brings more oxygen to your muscles, and in turn this accelerates the speed of nerve impulses making your performance better and faster.
An added bonus of using this Sports Warm-Up Body Oil is that since your muscles are warmed and looser, it reduces the risk of tearing ligaments and muscles during training. This is why top athletes around the world always use a pre-sports massage to enhance their warm-up exercises, and then after training finish with a cool-down massage blend.
Buy with confidence – 30 Day Money-back Guarantee
Not tested on animals – learn more
Contains Certified Organic Essential oils of: Ginger, Eucalyptus Radiata, Black Pepper, Spearmint, and Clove Bud in blended Sunflower, Coconut and Black Seed carrier oil.
Helianthus annuus, Cocos nucifera, Nigella sativa, Zingiber officnale, Eucalyptus radiata, Piper nigrum, Mentha spicata, Syzygium aromaticum.