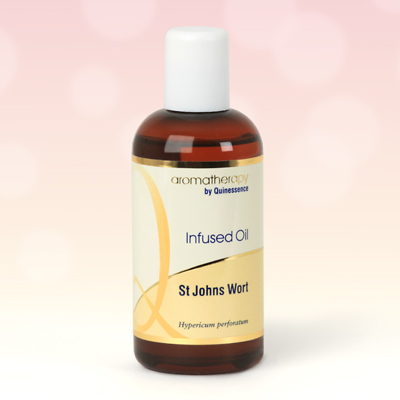 St John's Wort Oil (Infused)
Infused. The infusion of blossoms from the Hypericum bush is known as St John's Wort and is excellent for soothing and calming all types of sensitive, red and irritated skin. It can be either used undiluted for intensive treatments on sprains, bruises, stretch marks or spider veins, or added at around 20% to a lighter carrier oil such as Sweet Almond for face or body massage.
The freshly picked flowers are yellow, but when infused in a suitable base oil it actually produces a beautiful red oil! This is due to presence of the hypericin and other flavinoids which are contained in the buds and flowers. Crushing a flower bud between the fingers releases a beautiful burgundy-red liquid.
St. John's Wort has been used in herbal medicine for centuries to also treat cramps, spasms, and general muscular aches. When the powerful properties of this infused oil are combined with the appropriate essential oils for massage it produces an exceptional aromatherapy treatment that's hard to beat.
Buy with confidence – 30 Day Money-back Guarantee
Not tested on animals – learn more
Botanical Name:

Hypericum perforatum

Country of Origin:

France/United Kingdom

Extracted From:

Flowers

Extraction Method:

Infused