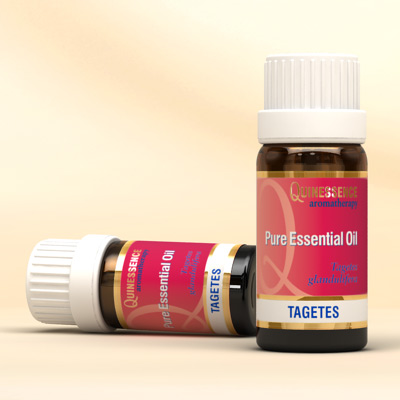 Tagetes Essential Oil
Antifungal, cleansing and soothing. Sometimes known as African or Mexican marigold, Tagetes Essential Oil has entirely different therapeutic properties to true marigold (Calendula officinalis) and should never be considered the same. Distilled from the flowers, this essential oil has a distinct sweet, herbaceous fragrance with fruity overtones which are extremely useful for adding fruity notes to blends.
Tagetes Essential Oil has a powerful antifungal and antibacterial oil action making it highly effective in caring for the feet. When added to carrier lotion base its therapeutic benefits are highly recommended for the treatment of bunions, calluses, corns, ringworm and athlete's foot. Tagetes oil is a powerful oil that should be used in a low concentration on areas other than the feet.
With a long history of use in Ayurvedic medicine for treating respiratory problems, a few drops of Tagetes Essential Oil in a diffuser or on a tissue can be used to loosen phlegm and catarrh, and clear the sinuses. Its powerful antiseptic action also helps keep infections at bay.
Please Note: Tagetes oil is phototoxic, so avoid exposure to UV light after use.
Buy with confidence – 30 Day Money-back Guarantee
Not tested on animals – learn more
Botanical Name:

Tagetes glandulifera, synonym T. minuta

Country of Origin:

South Africa

Extracted From:

Flowering tops

Extraction Method:

Steam distillation

Principal Constituents:

cis-b-Ocimene, diHydrotagetone, cis-Tagetone, trans-Tagetenone, cis-Tagetenone, Limonene, Caryophyllene.