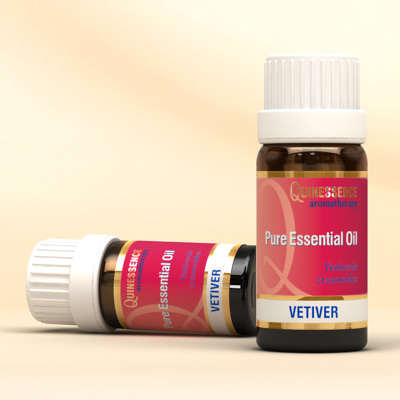 Vetiver Essential Oil
Balancing, relaxing and restoring. In India, Vetiver Essential Oil is known as the 'Oil of Tranquility' due to its deeply relaxing effects on the nervous system. Interestingly, this essential oil also has a profound strengthening and restorative action on both body and mind. It strengthens connective tissue, maintains the immune system, and brings balance to turbulent emotional conditions.
This action makes Vetiver Essential Oil ideally suited for balancing and stabilizing a wide range of conditions associated with the menopause and PMS, as well as having a grounding and calming effect on emotional conditions such as restlessness, agitation and oversensitivity. It's the ideal restorative after long stressful periods and burn-out too.
Vetiver Essential Oil is highly effective in skincare for moisturising dry and mature skin, but use it judiciously since the woody, mossy and earthy aroma is quite strong and easily dominates. To create a softer fragrance use equal proportions of sandalwood essential oil with it to create a softer, warmer base note with a highly beneficial, moisturising action.
Buy with confidence – 30 Day Money-back Guarantee
Not tested on animals – learn more
Botanical Name:

Vetiveria zizanoides

Country of Origin:

Java

Extracted From:

Rhizomes

Extraction Method:

Steam distillation

Principal Constituents:

Epizizanol / Zizanol, bicyclo-Vetivenol, Khusimol, a-Vetivone, b-Vetivone, cis-Eudesma-6,11-diene,