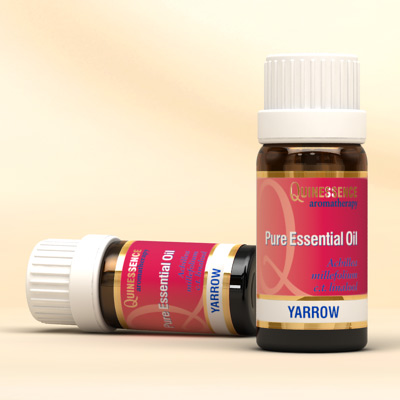 Yarrow Essential Oil (chamazulene c.t.)
Antimicrobial, soothing and relaxing. Yarrow Essential Oil is obtained from the flowers of Achilea millefolium, and there are numerous chemotypes of yarrow oil available to the aromatherapy market. The essential oil we supply is the chamazulene chemotype, and it has a sweet, herbaceous aroma with woody undertones. This essential oil is very dark blue in colour, making it very similar to German chamomile in both colour and aroma.
From the same botanical family as chamomile (Asteraceae), Yarrow Essential Oil has many of the same therapeutic properties as German chamomile and has a powerfully soothing action. This makes it ideal in aromatherapy massage blends to ease aching muscles after a strenuous day. It is also valuable easing PMS and menopause related issues.
In skin care, Yarrow Essential Oil delivers an astringent effect that helps reduce oiliness and tone dull, tired skin whilst also disinfecting. The powerfully relaxing effect of Yarrow is beneficial when treating stress related conditions or to enjoy a good night's sleep. On an emotional level yarrow is said to help strengthen intuition and insight.
Buy with confidence – 30 Day Money-back Guarantee
Not tested on animals – learn more
Botanical Name:

Achillea millefolium

Country of Origin:

Hungary

Principal Constituents:

Chamazulene, d-Cadinene, Sabinene, Myrcene, 1,8 Cineol, g-Terpinene, b-Pinene, a-Cadinol.