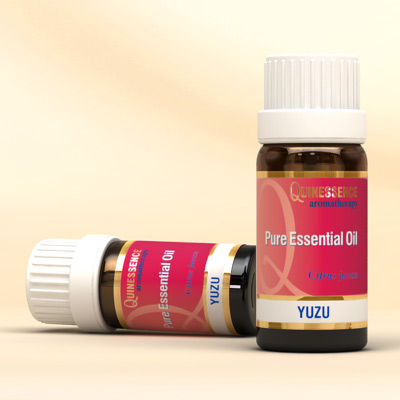 Yuzu Essential Oil
Antimicrobial, refreshing and uplifting. Yuzu is a citrus fruit thought to originate in China and introduced into Japan around 1,000 years ago. Yuzu Essential Oil is obtained by cold expression of the rind, and its aroma is highly complex and reminiscent of grapefruit and mandarin, with subtle overtones of both bergamot and lime. It has a very dry, tangy quality whilst producing an almost floral note that is captivating and very appealing.
The therapeutic properties of Yuzu Essential Oil are very similar to those of bergamot, and it excels when used with cases of stress and burn-out where it imparts a stabilising, strengthening and energising effect. Also in common with bergamot, this oil has a powerful antimicrobial action which makes it useful during the cold season. This accounts for the popularity of the fruits in Japanese folk medicine where they are traditionally used in a hot bath on the day of the winter solstice (Toji) to ward off a range of winter ills.
Yuzu Essential Oil also brings relief to frustration, regret and negative emotional states, helping to dispel these and bring focus to the mind. For those who suffer from grief or a lack of confidence this oil instils strength and courage, especially when blended with jasmine. Yuzu is an oil that helps to facilitate change, on both an emotional and spiritual level.
Buy with confidence – 30 Day Money-back Guarantee
Not tested on animals – learn more
Botanical Name:

Citrus junos

Country of Origin:

Japan

Extracted From:

Peel of the fruit

Extraction Method:

Expressed

Principal Constituents:

Limonene, g-Terpinene, a&b Phellandrene, a&b-Pinene, Myrcene, Linalool, Bicyclogermacrene, (E) b-Farnesene, p-Cymene, Terpinolene.