Active Botanical Ingredients
Aroma-botanicals® skin and hair care systems provide everything you need to nourish, re-hydrate and protect your skin and hair, producing results that are cumulative and long lasting. These outstanding results are achieved by using a skillful combination of high-potency, active botanical extracts that deliver results you can see, whilst being safe on the most sensitive of skin types.
This is because the botanicals that we have chosen have been used safely for centuries, which is something that most certainly can not be said for all the chemical ingredients so prevalent in many beauty products today. Only time will tell if 50 or 60 years of daily use will prove these new 'miracle' ingredients to be totally safe on your skin.
Natural ingredients
Meanwhile, we will continue to manufacture products using natural ingredients that nature has so thoughtfully provided for us. And there is certainly no shortage of effective plants to choose from, with scientists continually discovering more and more amazing healing and rejuvenating benefits within them.
Both our Professional and Retail range of Aroma-botanicals® products contain therapeutically-active levels of the most valuable natural plant extracts nature has to offer. These are some of the botanicals we use, and their beautifying qualities:
Aloe Vera
Wonderfully hydrating to the skin, emollient, and also accelerates cellular regeneration.
Arnica
Known to assist peripheral blood supply, assists toning and is soothing to the skin.
Carrot oil
A powerful accelerant of epidermal regeneration, and a free radical scavenger.
Centella oil (Gotu kola)
Traditionally used in India, China and Indonesia to improve skins elasticity, with the added benefit of firming the skin plus an anti-wrinkle effect.
Comfrey
Calming to the skin, this emollient botanical has a nourishing and conditioning action.
Evening Primrose
Highly effective at preventing moisture loss, whilst also softening and soothing the skin.
Ginseng
Effectively strengthens the cellular network, and has a revitalising and nourishing effect.
Goldenrod
Provides a calming and soothing action to sensitive skin, plus conditioning qualities.
Horse Chestnut
Astringent in action, toning and strengthening to the cellular network.
Lady's Thistle
An excellent free radical scavenger, with superb anti-ageing and regenerating properties.
Primrose
Soothes, softens and conditions dry skin.
Rosehip oil
Actively promotes cutaneous regeneration and delivers an emollient effect. Renowned anti-wrinkle, stretch-marks and scar reducing properties.
Rose Mallow
Calming and soothing to the skin, with a softening effect.
Seaweed & Algae
Effective yet gentle detoxifying action whilst hydrating and re-mineralising the skin. Also stimulates cellular activity.
Sea Lavender
Gentle astringent action with a calming and soothing effect.
Shea Butter
Has a renowned nourishing and protecting action whilst hydrating. A great emollient.
Witch Hazel
Well known for its astringent, purifying and refreshing action.
Vitamin E
One of the finest free radial scavengers with excellent anti-ageing properties. Also improves skins elasticity.
Aroma-botanicals® skincare brings you beautiful skin - naturally.
---
Search this site
---
FREE Newsletter
Subscribe now to receive expert Articles, Essential oil profiles, Skincare tips, Recipes and much more.
Plus, you will have exclusive access to our hugely discounted Special Offers, Free Gifts and Prize Draws.
We respect your privacy and hate spam as much as you do. We will never sell, rent or share your e-mail address with anyone.
---
Did you know?
One of the secrets of beautiful skin lies in effectively removing excess oil, dirt and dead skin cells.
But not many people realise that most commercial soaps contain tallow - which is animal fat, as well as petroleum derived detergents!
This is hardly the best thing to apply to your face and body whilst trying to cleanse it, and it is not surprising that your skin is left feeling taught and dry.
Vegetable based soaps offer a much more gentle and moisturising approach to cleansing your skin.
---
Testimonials
"I have just received my first order from you, and your high standards and beliefs truly reflect in the quality of your products.
I have used several suppliers in the past and none can compare. You can be sure that I will be using you as my regular supplier from now on."
Amanda Laffoley - Sussex - Qualified Aromatherapist
---
Credit Crunch Busters!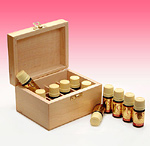 Buy this Essential Oils Collection and get a hand-made wooden Storage Box worth £14.99 - absolutely FREE!
---
Learn more
Above: Sunflower (Helianthus annus)
Origin: Argentina
Vegetable oils must be cold pressed to ensure that the essential therapeutic fatty acids and vitamins are not destroyed during the process of manufacture.
To learn more about the importance of choosing high quality oils, visit these pages:
---