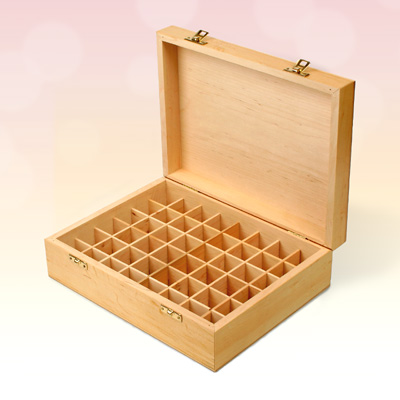 48 x 10ml Space Storage Box
Our hand-made 48 x 10ml space Essential Oil Storage Box is available in Natural Alder Wood and is finished in satin lacquer. Fitted with two brass closure clasps for carrying oils securely, these storage boxes are designed to hold either 5ml or 10ml essential oil bottles but can hold bottles up to 28mm in diameter.
Each essential oil bottle sits in its own divided partition which helps keep them safe during transportation or when moving them around the house. Wooden boxes specially made for essential oils storage are the perfect way to maintain all the therapeutic qualities of your essential oils for longer periods.
Protecting essential oils in a wooden storage box away from direct sunlight and extreme changes in temperature is the key to a longer product shelf-life thereby extending the vibrant healing qualities of your essential oils. Citrus essential oils are especially prone to the detrimental effects of sunlight and repeated temperature changes.
In addition, if you are stuck for ideas when buying presents for friends and family who enjoy using essential oils then a hand-made wooden storage box makes the ideal present. Whether it's for a birthday, anniversary, or you simply want to show how much you think of them then they make a fantastic gift.
Buy with confidence – 30 Day Money-back Guarantee
Hold 48 x 5ml or 10ml bottles.
Accepts bottles up to 28mm diameter and 65mm height
Dimensions: 26cm (width) x 20cm (depth) x 8cm (height)
Hand made by craftsmen