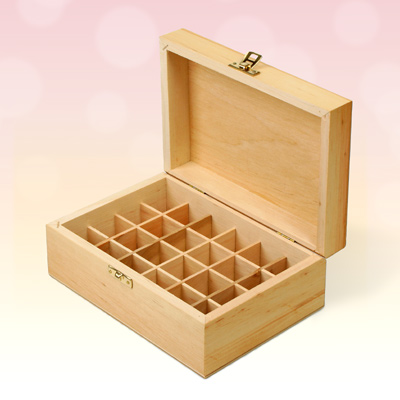 24 x 10ml Space Storage Box
Our 24 x 10ml space Essential Oil Storage Boxes are hand-crafted in natural Alder Wood and finished in satin lacquer. Attractive and lightweight, these essential oil storage boxes are fitted with a single brass closure clasp for securing the lid when not in use.
Designed to hold either 5ml or 10ml essential oil bottles, these wooden storage boxes can hold bottles measuring up to 28mm in diameter. Each essential oil bottle sits in its own divided well, which helps keep them safe during transport.
Wooden boxes specially designed for essential oils storage are the best way to maintain the best possible therapeutic properties of your essential oils for more extended periods. Protecting essential oils in a wooden storage box away from direct sunlight and extreme changes in temperature is the key to a longer product shelf-life. Citrus essential oils are especially prone to the detrimental effects of sunlight and repeated temperature changes and need extra protection.
Additionally, if you are struggling to find a gift for a loved one and they are big lovers of essential oils, then they will surely appreciate having an essential oil storage box of their own! Whether it's a special birthday, anniversary, or you just want to show your appreciation, these hand-made wooden storage boxes are a great solution.
Buy with confidence – 30 Day Money-back Guarantee
Holds 24 x 5ml or 10ml bottles
Accepts bottles up to 28 mm diameter and 65mm height
Dimensions: 20.5 cm (width) x 14.5 cm (depth) x 8.5 cm (height)
Hand made by craftsmen