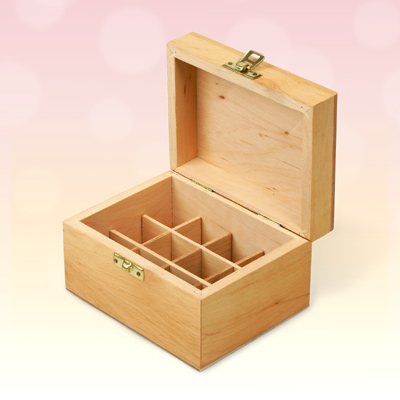 12 x 10ml Space Storage Box
This neat and compact aromatherapy box is crafted from Alder wood sealed with a satin laquer finish that lets the natural woodgrain pattern shine through.
A brass closure clasp keeps the lid firmly on and your bottles of essential oil safe.Atractive and lightweight, this aromatherapy box will hold 5ml or 10ml essential oil bottles measuring up to 28mm in diameter.
Each essential oil bottle sits within its own divided space which helps to keep them safe during transit.
These hand essential oil storage boxes also make ideal gifts. So if you are having difficulty finding a gift for a loved one they will love one of these! Whether it's a special birthday, anniversary, or you just want to show your appreciation, these hand-made wooden storage boxes make a great present.
Buy with confidence – 30 Day Money-back Guarantee
Holds 12 x 5ml or 10ml bottles
Accepts bottles up to 28mm diameter and 65mm height
Dimensions: 14cm (width) x 11cm (depth) x 8.5cm (height)
Hand made by craftsmen