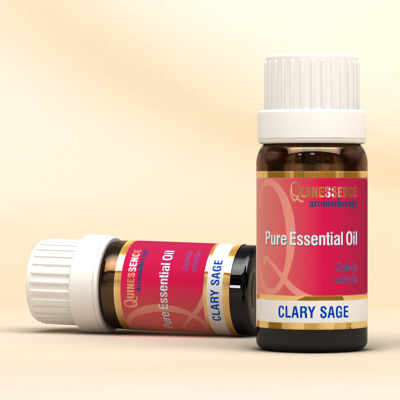 Clary Sage Essential Oil
Relaxing, warming and euphoric. Distilled from the flowers and leaves of the herb, Clary Sage essential oil is deeply relaxing and imparts a feeling of relaxation and well-being to both mind and body. This makes it an invaluable oil for easing all types of stress and frustration, and its gentle soothing action helps all manner of general aches and pains.
When used in skin care, Clary Sage essential oil delivers useful anti-aging properties, and on the mind it helps with the grieving process, helping to dispel negative thoughts and emotions.
Clary Sage Essential Oil Benefits
Clary sage has a natural affinity with the female reproductive organs, and it is surely one of the most important essential oils for a woman. It provides relief and support through all the reproductive and hormonal phases of her life; soothing properties help relieve period cramps, an emmenagogic action regulates scanty periods, and its deeply relaxing action is invaluable for pre-menstrual tension.
Buy with confidence – 30 Day Money-back Guarantee
Not tested on animals – learn more
There is a popular misconception that emmenagogic essential oils are unsafe during pregnancy because they are abortifacient and therfore may lead to a miscarriage. This assumption is incorrect and is corrected in 'Essential Oil Safety'*, where Robert Tisserand clarifies that emmenagogic oils present no danger in aromatherapy, and clary sage is confirmed as safe (when used externally) during pregnancy.
This misunderstanding has been exacerbated due to Salvia sclarea being confused with Salvia lavandulifolia – which is an abortifacient oil.

* Tisserand & Balacs, Essential Oil Safety, Churchill Livingstone (1995), Emmenagogue oils: p110-111.
Botanical Name:

Salvia sclarea

Country of Origin:

France

Extracted From:

Flowering tops

Extraction Method:

Steam distillation

Principal Constituents:

Linalyl acetate, Linalool, germacrene-d, b-Caryohyllene