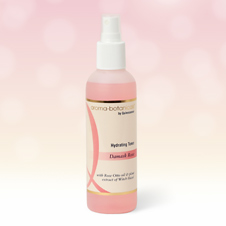 Damask Rose Toner
Rose Otto Oil. Refresh and revitalise your skin with this gentle pH balanced toner formulated with exquisite Rose Otto Oil from Bulgaria. Clinical research has proven that Rose oil has an impressive toning and astringent effect on capillaries, which makes it the perfect choice for a natural hydrating toner. The fact it smells divine is just a bonus!
To ensure the best possible results from this hydrating toner we have also added Witch Hazel extract, which helps firm the elasticity of pores and leaves skin feeling energized and revitalized, whilst the beautiful fragrance of Rose refreshes and lifts the emotions. Spritz anytime for a totally uplifting and enlivening experience.
This natural toner will not disturb the skins natural pH balance, and helps to balance the skin after cleansing and before applying a moisturizing cream or lotion. It also calms the skin and prepares it for any of the night creams, serums or treatments that will follow.
Buy with confidence – 30 Day Money-back Guarantee
Not tested on animals – learn more
Aqua, Aqua and Rosa Centifolia, Aqua and Hamamelis Virginiana, Glycerin, PEG-40 Hydrogenated Castor Oil, Rosa Damascena, Sodium benzoate, Pottassium Sorbate, Citric Acid, CI 45380