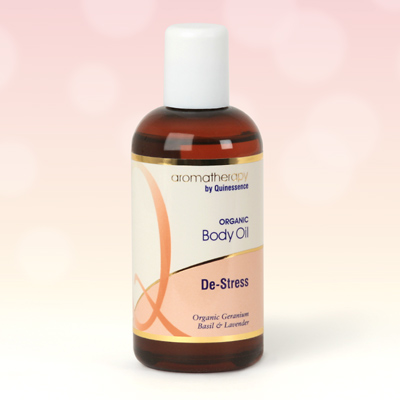 De-Stress Body Oil
Geranium, Basil and Lavender. A soothing and strengthening blend to help you recharge mind and body after a demanding day. The uplifting and cephalic properties of the Basil essential oil in this expert blend help to disperse agitation and help strengthen a healthy, positive attitude.
When combined with Geranium and Lavender essential oil it produces a lovely herbaceous and floral aroma that also has many soothing benefits for the skin. Lavender is one of the the most popular and versatile essential oils used in aromatherapy, and if you've ever passed a lavender bush, you'll know that it smells fresh, floral and comforting. So, if you're long due for some pampering, this organic massage oil is for you!
Quinessence De-Sress Body Oil is the perfect blend to promote general relaxation and wellness while fortifying the mind. It will help you de-stress and leave your skin feeling refreshed and rejuvenated. Get that glowing look while simultaneously moisturising and strengthening your skin barrier.
Buy with confidence – 30 Day Money-back Guarantee
Not tested on animals – learn more
Contains Certified Organic Essential oils of: Geranium, Basil, Lavender, Vetiver, and Melissa in blended Sunflower and Coconut and carrier oil.
Helianthus annuus, Cocos nucifera, Pelargonium graveolens, Lavandula angustifolia, Ocimum basilicum, Vetiveria zizanoides, Melissa officinalis.