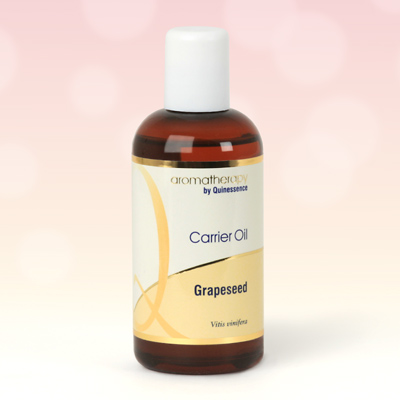 Grapeseed Carrier Oil
Pressed. Popular and cost-effective, Grapeseed Oil is an all-purpose carrier oil for essential oils that can be used for aromatherapy massage and beauty treatments. It is very light in texture which means it is quickly and easily absorbed by the skin, leaving a smooth, satin finish without a greasy trace.
Grapeseed Oil is suitable for all skin types including those with nut allergies, and has good emollient properties that help calm and soothe sensitive or irritated skin. It has mildly astringent qualities which help to tone the skin, which can be helpful with oily and acne-prone skin.
Containing copious quantities of linoleic acid, Grapeseed Oil helps to control cellular metabolism and maintain the health of skin cell membranes. It also contains Vitamin E which assists in the fading of age spots, stretch marks and wrinkles. However, the large quantities of linoleic acid mean that the shelf life of Grapeseed Oil is not as long as many other carriers, but is still at least 6 months when stored correctly.
Although it is possible to obtain Grapeseed Oil by cold expression, the very low yield using this method means the price is disproportionally expensive, therefore very little oil is produced this way. Applying heat during the pressing process increases the yeild and keeps the price down.
Buy with confidence – 30 Day Money-back Guarantee
Not tested on animals – learn more
Typical essential fatty acid profile:-
C16:0 Palmitic acid 5 - 11%
C16:1 Palmitoleic acid 0.5%
C18.0 Stearic acid 3 - 6%
C18:1 Oleic acid 12 - 28%
C18:2 Linoleic acid 58 - 78%
C18:3 Alpha Linoleic .02%
C20:0 Icosanoic .02%
C20:1 Iconsenoic .02%
C22:0 Docosanoic .02%
Botanical Name:

Vitis vinifera

Country of Origin:

Italy

Extracted From:

Seeds

Extraction Method:

Warm pressed