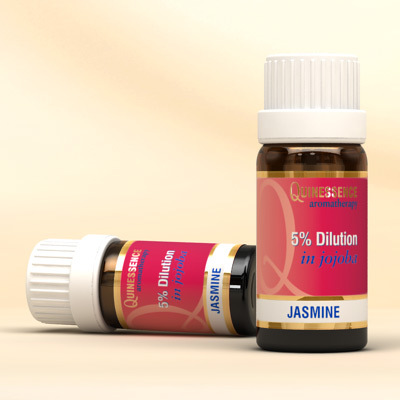 Jasmine 5% Dilution
Empowering, harmonising and nourishing. The rich, sweet-floral and slightly fruity aroma of Jasmine can be ultra relaxing and uplifting to the emotional system and is highly beneficial in skin care treatments. A few drops of Jasmine 5% essential oil dilution added to an unfragranced base cream or lotion brings relief to hot, dry or irritated skin, plus it also acts as a tonic that tones the skin and helps fade blemishes.
Jasmine stimulates the senses and relaxes the body, and is both relaxing and stimulating to the senses, which perhaps justifies its legendary reputation as an aphrodisiac. This oil helps produce a state of calmness and peace which encourages the liberation of sexual hang-ups, thereby allowing sexual energies to be released naturally.
In the ancient traditions of Ayurvedic and Chinese medicine, Jasmine has long been used for its hormonal-like action that has a close affinity with the female reproductive system, making it valuable for relieving the symptoms of PMS, reproductive issues, and the menopause. It provides strength to those suffering from doubt and fear, and can be beneficial for overcoming emotional trauma and boosting confidence and self-esteem.
Buy with confidence – 30 Day Money-back Guarantee
Not tested on animals – learn more
Botanical Name:

Jasminum officinalis

Country of Origin:

Egypt