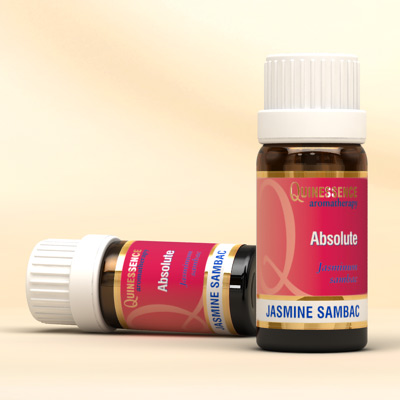 Jasmine Sambac Absolute Oil
Empowering, harmonising and nourishing. Jasmine sambac is known as 'Moonlight of the Grove' in India, because its flowers open at twilight releasing its intriguing floral bouquet. The fragrance of Jasmine Sambac Absolute is a little less sweet than J. officinale and has a deep, rich, green-floral and slightly fruity fragrance that has a unique 'je ne sais quoi' that no other oil has. It falls in that classic category of a fragrance that must be experienced before you can fully appreciate all that it exudes.
Jasmine Sambac Absolute has a toning and balancing action on oily skin, and soothes hot, irritated and sensitive skin whilst stimulating cellular renewal. It also helps to fade stretch marks and blemishes whilst improving the condition of skin whilst imparting a delightful exotic aroma!
Like its close relation Jasmine grandiflorum, in aromatherapy baths and massage blends Jasmine Sambac Absolute has a powerfully relaxing effect on the body whilst stimulating the senses, promoting feelings of peace, tranquility, and an air of romance. On the emotional system sambac is one of the finest oils for balancing and opening up emotional states, counteracting selfish thoughts and actions.

This oil has a reputation as an aphrodisiac since it brings about a state of deep relaxation and peace that helps to let go any sexual hang-ups, allowing sexual energies to be released in a natural way.
Jasmin Sambac Absolute is also available from Quinessence as a 5% Dilution.

Buy with confidence – 30 Day Money-back Guarantee
Not tested on animals – learn more
Please note: Jasmine Sambac Absolute has a rich consistency and at cold temperatures this oil sometimes sets completely. Simply placing the bottle in warm water for 10 to 15 minutes will get the oil flowing properly.
Botanical Name:

Jasminum sambac

Country of Origin:

India

Extracted From:

Flowers

Extraction Method:

Solvent/alcohol extraction

Principal Constituents:

a-Farnesene, Linalool, Benzyl acetate, Indole, Benzyl alcohol, Jasmone, Methyl anthranilate.