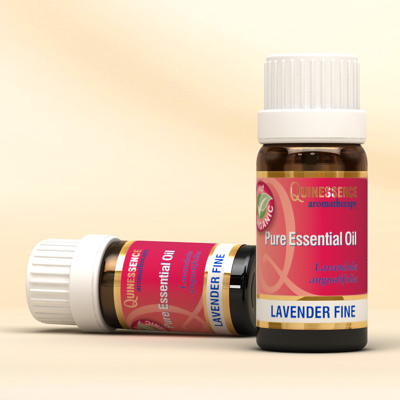 Lavender Fine Essential Oil (High Alt) - Certified Organic
Relaxing, soothing and rejuvenating. Without a doubt, the very finest French Lavender in the Quinessence Aromatherapy Collection is this superb organic 'fine' lavender essential oil certified by ECOCERT. Also known as high altitude or alpine lavender, this organic essential oil has a sweet, well-rounded floral fragrance that blends harmoniously with almost every other oil.
Organic Lavender Fine Essential Oil is the rarest of all lavender oils, since it is only produced in limited quantities from plants cultivated in specific fields designated as 'lavande vraie' (true lavender). This exceptional essential oil is usually reserved for the specialist aromatherapy and natural health market, rather than all the usual areas where lavender oil is employed.
Although it is a little more costly, it is still extremely good value for such an outstanding oil. High altitude lavender oil appears to have the ability to uplift the mind whilst being powerfully relaxing to the body, making it indispensible for rebalancing and soothing states of anxiety, agitation and frustration. Organic Lavender Fine Essential Oil has a classic, well balanced sweet floral fragrance that is superior to most others, and is often the choice of the aromatherapist, as well as the natural perfumer.
Buy with confidence – 30 Day Money-back Guarantee
Not tested on animals – learn more
Botanical Name:

Lavandula angustifolia

Country of Origin:

France

Extracted From:

Flowering tops

Extraction Method:

Steam distillation

Principal Constituents:

Linalyl acetate, Linalool, Lavendulyl acetate