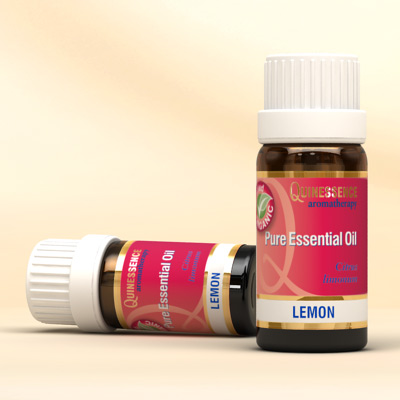 Lemon Essential Oil - Certified Organic
Antiseptic, revitalizing and uplifting. With a fresh, sparkling and zesty citrus aroma, this exceptional organic Lemon Essential Oil is grown and distilled in Italy, and certified by ECOCERT. A study in Japan showed that vapourising lemon oil helps to clear the mind and sharpen focus, reducing typing errors by 54%. It also helps to dispel negative emotions such as guilt, jealousy and regret.
It's powerful cleansing and antiseptic action is invaluable when treating spots, boils and insect bites. In an emergency, one drop of neat Lemon Oil applied to a cut helps stop bleeding quickly due to its styptic (astringent and blood clot forming) action. Use one drop only though, since over-use can sensitise the skin.
Lemon Essential Oil blends easily with almost any essential oil, and is particularly effective at rounding off the sweet edge of oils such as ylang ylang, geranium, rose and sandalwood. It also works well with Roman chamomile, cypress, fennel, juniper berry, lavender, neroli and other citrus oils.
Buy with confidence – 30 Day Money-back Guarantee
Not tested on animals – learn more
Botanical Name:

Citrus limonum

Country of Origin:

Italy

Extracted From:

Peel of the fruit

Extraction Method:

Expressed

Principal Constituents:

Limonene, b-Pinene, g-Terpinene, Sabinene