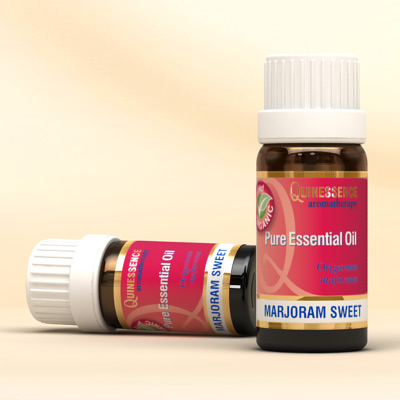 Marjoram Sweet Essential Oil - Certified Organic
Antimicrobial, relaxing and soothing. This organic essential oil exhibits a mellow, spicy-herbaceous aroma with a hint of sweetness and a lingering warm backnote. Organic Sweet Marjoram Essential Oil personifies the warm and sunny climate in which the plant is grown, which in this case is North Africa.
In common with most essential oils extracted from culinary herbs, Organic Sweet Marjoram eases and soothes digestive problems, flatulence, and intestinal cramps when used in massage blends. It also excels in massage treatments for relieving everyday muscular aches and pains, muscle spasms, period pains, bruises and sprains where its warming, soothing action brings almost instant relief.
The soothing antispasmodic action of Organic Sweet Marjoram Essential Oil also helps to soothe a tickly cough when a few drops are inhaled from a tissue. It's calming and sedating action on the nervous system helps to ease stress, nervous tension and hyperactivity, and soothes loneliness, grief and rejection.
Buy with confidence – 30 Day Money-back Guarantee
Not tested on animals – learn more
Botanical Name:

Origanum majorana

Country of Origin:

Egypt

Extracted From:

Dried flowers

Extraction Method:

Steam distillation

Principal Constituents:

Terpinene-4-ol, g-Terpinene, Limonene, b-Pinene